AutoCrib VLM
THE FIRST VERTICAL LIFT SYSTEM EQUIPPED WITH A USER-FRIENDLY INTERFACE
RoboCrib TX750
THE FIRST INDUSTRIAL VENDING MACHINE DESIGNED TO DISPENSE BOXES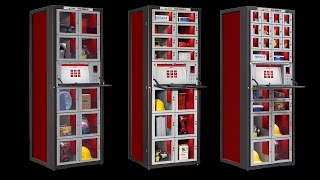 AutoLocker FX
THE FIRST LOCKER SYSTEM THAT REVOLUTIONIZES ASSET TRACKING
A Solution For Everyone
We can configure a custom vending solution just for you. Contact us today to get started.
Contact Us
What Is Industrial Vending?
Industrial vending machines provide point-of-use inventory management for industrial supplies. Workers simply scan an ID or fingerprint to issue or return items. The industrial vending system does the recordkeeping automatically just like a tool crib attendant. It can even re-order the products for you!
Learn More About Industrial Vending
Clients Who Demand The Best Industrial Vending Solutions
Automotive and Heavy Equipment
Caterpillar
Ford Motor Company
MAC Trailer
Michelin
Red Bull Racing
Tesla Motors
Triumph Motorcycles
Aviation and Aerospace
Airbus
Bell Helicopter
General Dynamics
Gulfstream Service Centers
Lockheed Martin
Northrop Grumman
U.S. Air Force
Department of Defense (DoD)
Barksdale AFB
Ellsworth AFB
Hill AFB
Naval Undersea Warfare Center (NUWC)
Tinker AFB
Warner Robins AFB
Energy and Utilities
GE Energy
LM Wind Power
Nevada Energy
Otter Tail Corporation
Siemens
U.S. Department of Energy
Food Processing and Beverage Industry
Bimbo Bakeries
Campbell's Soup
Hershey Foods
JBT FoodTech
Labatt Breweries
Marel Stork Poultry Processing
Medical and Pharmaceuticals
Bayer
Boston Scientific
Covidien
GE Healthcare
Johnson & Johnson
Noble Biocare
NuVasive
Stryker
AutoCrib vending systems helped JetBlue Airways to implement new technology in our operation. This allowed us to track our assets and reduce touch points with a return on investment that was less than 12 months.
AutoCrib has integrated seamlessly into our high-tech, fast-paced operation at Flex-Cell Precision-a cutting-edge, precision CNC machine shop located in Lancaster, PA. Since first using our LX2000 four years ago, we have been able to rely on AutoCrib's accurate reporting to monitor, track and order tooling. Nuisance purchasing has become a thing of the past with established min and max inventory levels, monitored in conjunction with US Tool Group. Using a system like our AutoCrib has practically eliminated stock-outs, knowing we are always a couple of weeks ahead of the game. Data is generated & manipulated into various report formats by Operator, Job, Date, etc. for easy visibility of where our tooling is being distributed to. Practically maintenance free, there is little to no effort needed to keep our system operating perfectly. Make the change we did to help keep your operation running smoother and discover an AutoCrib system for yourself.
Here are some of the benefits that we are seeing from the RoboCribs: Ease of issue. No cross contamination. Reorders are automatic. Visibility of parts and quantities.
S&S has partnered with AutoCrib since 2007 on vending projects with our corporate manufacturing, aerospace, petrochemical, and utility customers. Their constant innovation in leading edge vending technology allows us to have a proven and unique set of capabilities that our competition cannot offer. Their in-house techs and parts that are readily available allow our tech teams to keep the 200+ installed systems nation-wide running 24/7 that are critical to our customers success and S&S's reputation.